Jana Page – Massage Therapist Tunbridge Wells, Kent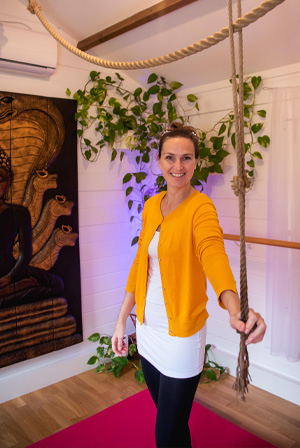 I am Jana Page and I do Traditional Thai Massage and Chavutti Thirumal in Tunbridge Wells and the surrounding areas. I love what I do and I am always seeking ways to improve myself in these techniques and beyond.
I first learnt Traditional Thai Massage at the Osho Meditation Centre, Czech Republic, in 1998. Since then I have attended courses around Europe, and learnt from teachers such as Nicholas Barrett – Tree of Life, Itzhak Helman – The Sunshine Network, Simon Pier Gall – London School of Thai Massage and Kira Balaskas – www.thaiyogamassage.co.uk.
In the past I regularly visited the Osho Meditation Centre in Brno, where I completed courses of Reiki, Thai Yoga Massage, Osho Natural Healing School, and Osho Mystic Healing School. Osho's meditations changed my life completely. His emphasis on awareness, love, creativity and fun brought a lot of ups and downs which have been essential lessons for the further spiritual development of my life.
My passion for these far East massage techniques is complemented by my passion for dancing. From a very early age, I have always been interested in the human body, especially in the form of dance. I started teaching dancing as a teenager whilst studying business at college. Then, I qualified as a teacher of Rhythm and Motion at the Prague Dance Centre, which is now under the patronage of Charles University, and is one of the largest and oldest organisations of contemporary dance in the Czech Republic. Some of the major subjects I studied were Body Building, Anatomy, Physiology and Sports massage.
I like to call my massages holistic, as I believe that these massage techniques go deeper, and work with your energy level. I like to mould you, nurture you, from your toes to your head. I keep cleansing myself with meditation and other techniques, and I hope I am channeling the best possible energy for your benefit.
When I perform Thai yoga massage, I enter a meditative state, and feel as though everything is flowing. I use my body weight instead of my muscle power. I simply shift my body weight on to my palms, thumbs, knees, etc., to apply pressure. My body is actually very relaxed during a session and every movement is coordinated with my breath, which helps me relax, and allows for energy to flow and allows healing.
Find out more on Facebook page or Instagram. I am trying to be up-to-date 😊