Savasana Therapies Massage Treatments
Thai Yoga Massage
Traditional Thai Yoga Massage treatment is far superior to conventional medicine and therapy; it is widely considered to be a medical discipline used for the treatment of a wide variety of ailments. It is a holistic treatment, an interactive manipulation of the body using passive stretching and gentle pressure. Thai massage helps to strengthen the body and increase flexibility, while allowing the client to benefit from the relaxation and healing properties of massage.
The Thai Yoga Massage is a meditative tradition that refreshes spirit and unlocks the flow of energy in the body. It promotes strength, balance, and energy awareness. It improves posture, breathing, and awakens intuition.
All what can be written or said about it is not to be believed but experienced.
A full Thai massage session typically lasts two hours or more, and includes rhythmic pressing and stretching of the entire body, however we can understand your time and money spending, therefore there are shorter sessions available. The massage recipient changes into his/her loose, comfortable clothes and lies on the Thai massage mat.

BOOK ONLINE

Thai Oil Massage
Thai oil massage relieves muscular tension, aids in the removal of toxins and relaxes the whole body and mind. With Thai Oil Massage we use range of massage oils which are made with organic ingredients and rich organic bases of Argan, Sea Buckthorn, Organic Almond and Sunflower.
The oils have many benefits, such as relaxes and tones the muscles, prevents dehydration, removes physical and mental stress, stimulates circulation, decreases anxiety, promotes better sleep, etc.
The massage recipient lies on the Thai massage mat, wears underwear yet is covered by a towel most of the time.

BOOK ONLINE
Feet, Hands & Head Treatment
Thai foot massage stimulates all the reflex zones to encourage energy flow, releases blockages, stretches and relaxes the ankles and feet. Hands are very important part of our body, yet we often don't give them the treatment as we do to our legs, back or shoulders. Therefore, it is essential to give them a rest too and treat them for all the work they do for us.
On top of the treatment, the head massage will sooth you and you can enjoy great deep relaxation. It is an effective and very relaxing massage that feels wonderful to receive. The long lasting feeling of peace and serenity during and after the massage is something everyone should be able to enjoy and regular treatments can make this tranquillity part of the client's everyday life.
The massage recipient wears his/her loose, comfortable clothes in order to pull the trousers up to the knees and lies on the Thai massage mat.

Thai Herbal Massage
The use of herbs pervades every part of Thai culture from the conscious use of herbs in their cooking to their herbal remedies. Incorporated into a massage the Luk Prakhop (herbal compress) will deeply relax the muscles and begin to detoxify the body and digestive system. The dried herbs are wrapped in a muslin and then soaked and steamed to release their healing properties. The hot compress is then used to massage the body, following the flow of energy, working deep into muscles as well as nourishing the joints. Performed on a massage couch this massage combines the classic stroking and kneading techniques of western massage alongside the physical stretches and energetic work of Thai Massage.

Thai Foot Massage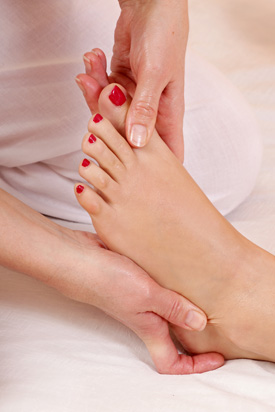 This massage of the feet and lower legs is similar to reflexology in that the reflex points of the feet are worked in order to stimulate the corresponding internal organs. However it is also much more of a massage of the feet than reflexology, and incorporates the use of a small stick to stimulate the reflex points. Having massaged the feet very thoroughly, and stimulated the reflex points this massage then continues to massage the lower legs and knee, relaxing the muscles and beginning to encourage the flow of energy from the feet.
Chavutti Thirumal
When you receive a Chavutti treatment, you are invited to be naked in the traditional method. You need not feel uncomfortable, your comfort is of paramount importance and your modesty is respected at all times. A towel is provided to be used in place of underwear to create a loincloth. Women will be topless when they turn over for the second half of the treatment. Should a client have worries about the treatment the sequence can be tailored to give extra privacy. Your body is liberally doused with warm oil with the practitioner's hands. The massage then begins using the feet and finished with the use of the hands. The full body is treated and a session can last from 1½ – 2 hours. During this time you are asked to lay on your front and then on your back. The treatment is carried out in a well-heated room and on a soft well-padded futon style mattress so you can really let go and sink in to the floor. The overall feeling is wonderful – strong, deep, yet highly sensitive.

Indian Head Massage
Indian Head Massage, also known as Champissage, is an age old system from India used to improve the health by stimulating the scalp (sometimes with oils) which is beneficial in improving circulation and helping to relax.
Indian Head Massage involves work using old Ayurvedic (meaning science of life) techniques by working with differing massage movements. This helps to relieve accumulated tension and stimulate circulation. It is also used to aid the condition of hair, particularly when using oils, as well as reducing fatigue and increase mental clarity.
Treatment is carried out in a chair and there is no need to undress to receive the massage. It is an extremely relaxing, safe and effective therapy that relieves aches, pains and stress and provides a deep sense of calm and tranquillity.
Treatment lasts approximately 30 minutes and includes a massage of the upper arms, face, neck, shoulders, ears and face, as well as the scalp. The number of sessions required will be dependent on client's needs and may, therefore, be a long or short term therapy. As it is a holistic therapy, it benefits the mind, body and soul.

History of Indian Head Massage
Massage has always played a pivotal role in Indian life and was featured in Ayurvedic texts that date back nearly 4,000 years. Traditionally, head massage began as a system of family grooming with a concoction of different oils, according to the seasons, and individual needs and accounted for an Indian woman's long, lustrous hair – a feature that brought her much admiration in social circles. Massage is integral part of family life and Indian infants often receive a massage from birth onwards.
Barbers, too, practised this skill with their male clients, and passed on this tradition from father to son. Their treatment differed from that the women performed, and was much more vigorous and designed to stimulate and refresh the client.
In 1973, Nerendra Mehta, an osteopath and massage therapist, travelled to England from India to study physiotherapy. During the intervening years, he was dismayed to learn that most massages, even those that were full body, did not extend further than the neck and shoulders. Having grown to appreciate head massage as a way of life in India, he realised how much he missed the soothing and calming sessions administered by the local barber.
Mehta was visually impaired and, therefore, extraordinarily receptive to touch therapy. He returned to India and researched the physiological benefits of head massage. Over the next few years, he developed a technique that combined massage of the face and ears, chakra balancing and scalp massage. He named his technique Indian Champissage (the word shampoo comes from the Hindi word champi, meaning massage of the head).
Over time, Indian Head Massage developed and now, having been Westernised, incorporates massage of the face, neck and shoulders whilst different pressures can be applied either calming or stimulating according to the client's needs.
Benefits of Indian Head Massage
Positive benefits achieved in a fairly short space of time, making it quick and easy.
No special equipment needed, so can be performed most anywhere on a chair, particularly helpful for those who find lying prone uncomfortable or difficult.
Non-invasive – no clothing to be removed.
Can be calming or stimulating, depending on the client's need.
Benefits of regular treatment include:
PHYSICAL BENEFITS
Improvement in sleep patterns.
Improvement in circulation.
Improvement in hair condition.
Help alleviate symptoms of headaches, migraine and mild neuralgia.
Reduction in stress levels.
Increased energy levels.
Relieves eyestrain.
Relieves muscle tension and helps improves upper body mobility.
Relaxes the body and improves mental concentration.
PSYCHOLOGICAL BENEFITS
Helps to alleviate insomnia.
Increased concentration improves memory capabilities.
Helps to lift depression.
Helps promote a deep and lasting sense of peace.
Gift Vouchers

(Gift Vouchers are currently not available)
Whatever the occasion, Savasana Therapies treatment gift vouchers are the perfect gift. Choose a specific treatment or purchase a value for the recipient for his/her own choice.
Any voucher expires after 3 months from purchasing. Voucher is valid only with settled payment.
Gift Vouchers can be ordered over the telephone 07760 373 530 or email info@savasanatherapies.co.uk with the information below. The voucher will then be posted to you or the recipient.
1. Your Name
2. The Recipient's Name
3. Voucher value or treatments
4. Address to send the voucher to